Description
Pro-Tech Carbide Tipped - Finger joint router Cutter 1/2"
The router bit is a counter profile bit designed to join the end grains of wood. The finger joint is much stronger than the conventional butt joint, due to the increase of glue surface area.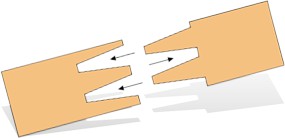 Payment & Security
Your payment information is processed securely. We do not store credit card details nor have access to your credit card information.