Description
The Tork Craft Stainless Steel Vernier Caliper 200mm is used to give a direct reading of the distance measured with high accuracy and precision.
There are two different vernier calipers available in the Tork Craft range:
Analog vernier calipers.
Digital vernier calipers.
Before using a vernier caliper:
Make sure the workpiece being measuring is clean and has no burrs on the edges.
Make sure the lathe is switched off when measuring a workpiece in a lathe.
The temperature of the workpiece is required to be around 20°C to have consistent measuring results.
Precision measuring tools should never be put near a magnetic area to avoid the vernier caliper being magnetized.
How to use and read an analog vernier caliper:
Undo the locking screw and open the jaws of the caliper and position both jaws firmly to the ends of the piece being measured.
Tighten the locking screw so that the jaws don't move.
The vernier is divided into two different measurement scales. The main scale and the vernier scale (fixed onto the bottom jaw).
On the vernier scale is a small number 0. Look at how many markings the 0 has passed on the main scale. This represents the amount of millimetres measured.
The decimal is determined by the alignment of the markings on the vernier scale to the main scale. The first alignment from left to right will be the decimal reading accurate to 0.02mm.
On the diagram below is an example of a piece measured at Ø17.28mm.
This method can be used to measure:

Depth by using the stem.
Inner dimensions by using the inner jaws.
Outer dimensions by using the outer jaws.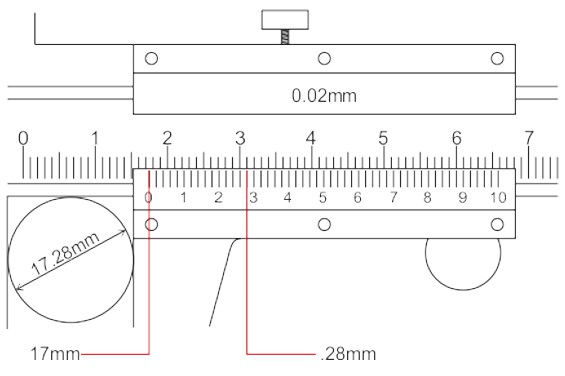 Handling and care of vernier calipers:
The inside faces of the jaws and the outside tips must be treated with great care. The tool will no longer give accurate readings if the jaws are bent or worn.
Wipe the faces of the vernier caliper clean from dust or dirt.
The accuracy should be periodically checked by measuring a known dimension.
Analog vernier calipers should be lightly oiled to prevent rust.
A vernier caliper is a measuring instrument and should be safely stowed away to prevent any damage that might occur.
Payment & Security
Your payment information is processed securely. We do not store credit card details nor have access to your credit card information.