Description
Pro-Tech Kp859 Multiform 1/2 Shank multiform - Moulding maker router bit
Use any portion of the router bit to create many profile possibilities. Create your own design!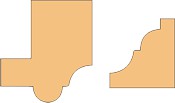 Below is an example of a profile made by flipping over the board and adjusting the height of cut and setting the router table fence.
Payment & Security
Your payment information is processed securely. We do not store credit card details nor have access to your credit card information.